Specific Introduction:
The quartz tube with flanges and the vacuum pump, it can work both for vacuum and atmosphere conditions.
Range of Application:
This mini tube furnace is mainly used for sintering, coating, Nanotube study, soldering in both vacuum condition and atmosphere condition in laboratories and enterprises.
Features:
Compact structure, Low power dissipation, Accurate control, Stable performance, Easy operation.
Parameters:
Model

KJ-T1200-S25K1

KJ-T1200-S30K1

KJ-T1200-S40K1

KJ-T1200-S50K1

Top Temperature

1200℃

Working Temperature

1100℃

Quartz Tube Diameter

Φ25

Φ30

Φ40

φ50

Heating zone length

200/300mm

Insulation layers

High-Purity Alumina Ceramic fiber

Power Supply

110/220V 50/60HZ

Heating Rate

0-20℃/min

Control Accuracy

±1℃

Temperature Sensor

K-type Thermocouple

Heating Element

0Cr27Al7Mo2 Resistance Wire

Sealing

Flanges

Structure

Split

Accessories

Gloves, Crucibles, Tongs, Crucible hook.

Optional

Vacuum pumps, Gas-mixing system with mass flowmeters or float flowmeters.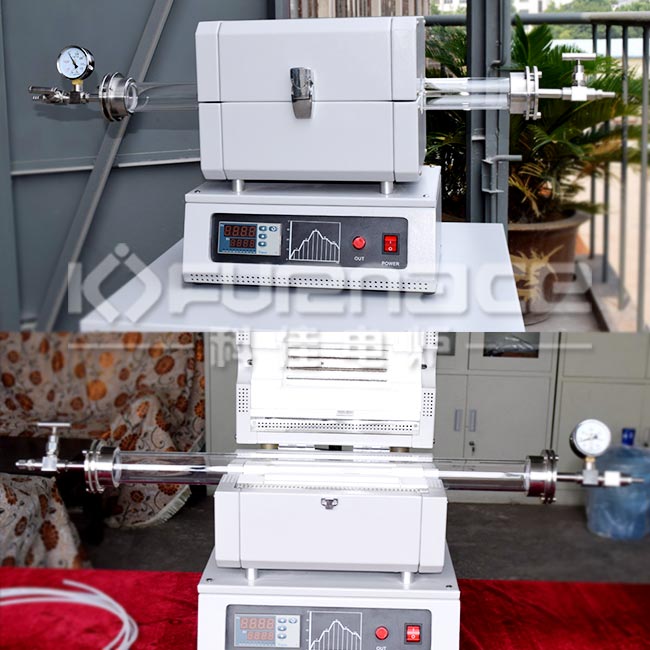 More can be customized according to customer needs: