Brief Introduction:
It's mainly used for the preparation of rare earth, electronic lighting, crystal annealing, bio ceramics, electronic ceramics, special alloys, magnetic materials, precision casting, metal heat treatment and other industrial vacuum sintering, protective atmosphere sintering, vacuum deposition, CVD experiments, material composition measurement occasions.

The main features are as below:
1. Great temperature uniformity.
2. Over temperature protection and alarm
3. PID automatic control via SCR power control
Part I
Technical Parameter:
Model

KJ-1200T

Display

LED

Max. Temp.

1200C

Working Temp.

≤1100℃

Heating Rate

Suggestion 0~10℃/min(max. 20℃/min)

Temperature Zone

200mm+200mm+200mm

Temperature Control Accuracy

±1℃

Tube Size

Φ50mm x 1200mm OD x L

Heating Element

Fe-Cr-Al Alloy doped by Mo

Thermocouple

K Type

Max. Power

6.0 KW

Working Voltage

AC 208V-240V single phase, 50 Hz (or according to your requirement)

Temperature Control

PID automatic control via SCR power control

Heating curves

30 steps programmable

Chamber material

Alumina Fiber

Warranty

One year limited warranty (Consumable parts such as heating elements are not covered by the warranty)

Standard Accessories

Hook x 1 piece
Tube block x 1 pair
Silicone O rings x 4pcs
Part II
Pressure Regulation System
One mass flow meter

Which can regulate according to pump
pressure

pressure sensor

(inficon brand: measuring range:3.8x10-5 to 1125
Torr ) installed on outlet of furnace tube.


Touch Screen PLC Controller

Regulate pressure from 50-300torr


Notice:

The regulate pressure is under furnace in horizontal direction.
The result maybe different in vertical direction.
Part III
Pirani Vacuum Gauge
Installed on gas inlet side of furnace
tube
Measuring range: 1×105~1×10-1Pa

Part IV
4 Channels MFC Gas Mixing Station

Technical Parameter:
Display

LCD Touch Screen

Working Temperature

5~45 ºC

Max. Pressure:

3x106 Pa

Accuracy:

±1.5% FS

Liner

±(0.5-1.5)%F.S.

Duplicate accuracy:

±0.2%F.S.

Structure

Four precision mass flow meters:
MFC 1: Flow range from 0~600 sccm for Ar
MFC 2: Flow range from 0~600 sccm for N2
MFC3: Flow rang from 0~600 sccm for forming gas (5%H2+95%N2)
MFC4: Oxygen:0-600sccm
One gas mixing tank is installed on bottom case
5 stainless steel needle valves is installed on left side of bottom case to control 4 type gases mixing manually.

Pls note

Liquid or corrosion not supported.
Reference Photo: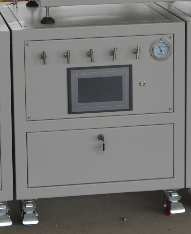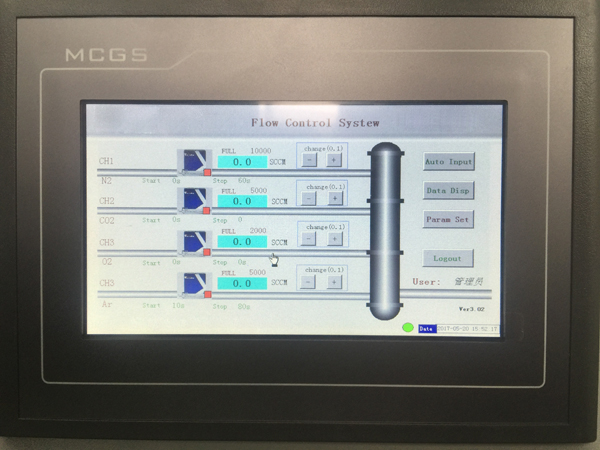 Part V
Scroll Vacuum Pump


Item Introduction:
Scroll pump is a new kind of oil-free mechanical pump with features of simple construction,
good sealing, high vacuum ect. As a high technology product, it has highly technical requirement in desigh and manufacture. With benefits of low consumption, long working life, high reliability, and low noise, It has incomparable advantages in the application of clean process and has been popularly used in the market. GVD, GSP series scroll dry pumps are scroll dry pumps with excellent performance and obvious price competitiveness, which are introduced by Baosi Vacuum for the characteristics of downstream applications at home and abroad.


Application:
Clean vacuum, Backing turbomolecular pumps, Library, Analysis equipment, Leak detection, Beam line, Scientific researching, Medical equipment, Distillation/extraction/filtration, Laser, Semiconductor(LED/LCD), Photovoltaic, Coating(PVD/CVD), Battery, Glove box, Beam welding/laser welding, Space simulation.

Technical Parameter
| | |
| --- | --- |
| Nominal Rotation Speed | 1800 rpm |
| Displacement | 3L/S |
| Ultimate Vacuum | 0.008mbar |
| Motor Power | 400W |
| Voltage Input | Single Phase 100-240V |
| Dimensions | 430×255×290mm (L×W×H) |
| Noise Level | 54dBA |
| Inlet Flange | NW 25 |
| Exhaust Flange | NW 25 |
| Max Water Vapour Pumping Rate | 100 gh-1 |
| Leak Tightness | < 1×10-6mbar·l/s |
| Weight | 28kg |
| Cooling System | Air cooled |
| Operating Temperature | 10 to 40℃ |
| The cart, bellow and clamp are included for one pump. | |


Part VI Cold Trap
| | |
| --- | --- |
| Cold Trap | Customized model,need to cooperate with water chiller |
Part VII Water Chiller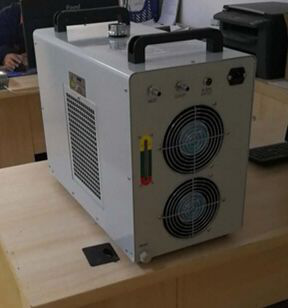 Model

CW-5000

Power Supply

220V 50Hz

Cooling Capacity

1000W

Refrigerant Type

R134a

Precision

± 0.3℃

Pump Power

0.03 kW

Max. Lift

8M

Flow

10L/min

Tank Capacity

7L

Inlet and Outlet

Internal Φ8mm speedy connector
Pagoda-shape connectors

Weight

28 Kg

Control Type

Digital Display

Dimension

55*28*43cm (L*W*H)

Part VIII Filter
| | |
| --- | --- |
| Used in the inlet of vacuum pump | |